June 2017 Denver Monthly Newsletter
June 1, 2017
by Arleen_Garcia-Herbst
Sangha News
We are pleased to announce that Sakyong Mipham Rinpoche will be visiting Denver on October 20th and 21st. This event is the first of three on the North American Tour supporting his new book, The Lost Art of Good Conversation: A Mindful Way to Connect with Others and Enrich Everyday Life. The weekend will include a public talk on Friday night and a day-long retreat on Saturday led by the Sakyong, Lodro Rinzler and Susan Piver.
---
Please join us in congratulating Denver's new Dorje Kasung Command team:
Aaron Snyder, Rupön: Sr. Advisor (and holder of DK lineage and dharma)
Stuart Aronoff, Khenchen: Court Liaison, Special Events and Training (and Regiment Transportation Officer)
Ryan Todd: Kasung Liaison
Laurie Lavine: Practice & Education
Arleen Garcia-Herbst: Communications and Command Team ADC
---
Save the Date: The next Membership Ceremony will be held on Sunday, June 4th at 11:30 am.
The Regional Leadership Council meeting will be held June 16th. More to come in July's Newsletter about what was discussed!
Save the Date: Our next Community Enrichment Weekend will be held on June 24th and 25th. More details to come!
---
Learn to Meditate with Patricia Kelly on June 3rd
The Center is pleased to announce that we're holding a one day meditation workshop that is suitable for those who want to begin a practice with in-depth instruction, as well as those who just want to refresh their practice and view. There will be an explanation of why precision is important, discovering the best posture for you, and mindfulness and contemplation practice. Lots of opportunity for questions, discussion and practice. We will draw from Turning the Mind into an Ally, the best-selling book by Sakyong Mipham Rinpoche. Shambhala Meditation Center of Denver welcomes people of all religious traditions as well as those who do not follow a particular spiritual path. This workshop is recommended for new meditators, as well as for those looking to enrich their existing spiritual tradition. Learn more.
---
Children and Families
We look forward to you joining us in another successful season of Shambhala Kids. We will have wonderful last class on June 4th followed by a community potluck that includes members who had taken their membership vows. We are looking forward to continuing Shambhala Kids in the Fall starting in September. Stay tuned for updates over the summer as we finalize dates and hold a kick off event in August at a park in the city to celebrate kids and mindfulness in the world. Enjoy your summer!
---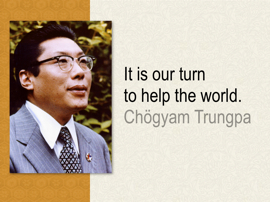 Community Enrichment Weekend Retreat
Please join us June 24th – 25th for our first Community Enrichment Weekend Retreat. We will come together as a community to engage in practice, contemplate and discuss Shambhala society & culture, as well as enrich and care for our Center.
We will have a potluck lunch both days. Please bring something to share. If you have a work project in mind or an idea to spruce up our Center, please let our Membership & Volunteer Coordinator, Ryan Todd know at [email protected].
Both days we will start at 9 am and end in the early evening. All are welcome. Drop in for all or part of the weekend.
More details are coming soon!
---
Rocky Mountain Region News
Featured Regional Programs
The Just King: The Tibetan Buddhist Classic on Leading an Ethical Life with translator José Ignacio Cabezón
Sunday, June 4 | 6:00 p.m. @ Shambhala Publications Event Space, Boulder
Medicine Buddha Monlam with Anyen Rinpoche
June 9–12 @ Orgyen Khamdroling, Denver
Nyingma Summer Seminar with Dzigar Kongtrul Rinpoche, Dungse Jampal Norbu, Elizabeth Mattis-Namgyel, and Pema Chödrön
July 8–16 @ Mangala Shri Bhuti, Ward
The Heart of Wisdom and Compassion with Pema Chödrön
July 11, 8:30 a.m.–12 p.m. @ Mangala Shri Bhuti, Ward or Online
---
News about The Sakyong
The Peace Now! Conference in Austria (September 15-17) will explore how we can cultivate peace in these difficult times. The Sakyong will be the keynote featured speaker, along with others including Michel Aguilar, Susan Gillis Chapman, Christian Felber, Arawana Hiyashi and more.
Sakyong Mipham Rinpoche will be a featured keynote speaker at the Lead with Love Conference in Aspen, Colorado (October 26-29), joining Deepak Chopra, Seane Corn and more. This conference will explore Mind, Body and Spirit over the course of four days, including time in nature, lunch and dinner conversation, and workshops with global thought leaders. The base will be two heart-opening yoga classes per day as well as thoughtful, curated conversations and workshops.
---
Announcing Lion's Roar & BuddhaFest Online Film Festival
June 12 – July 23, 2017
Lion's Roar has partnered with BuddhaFest again this year to bring you this special opportunity to view Buddhist-themed and Buddhist-inspired cinema. Six films are featured, ranging from the dramatic feature Wandering to the documentary on China's most austere and revered Zen communities, One Mind. In addition, we'll have six brand new teachings recorded specifically for the festival from some of Lion's Roar's favorite teachers, including:
Sharon Salzberg
Dzogchen Ponlop Rinpoche
Noah Levine
and more
Learn moreabout how to purchase early bird tickets, and to view a complete list of featured films and teachers.
---
If you have any questions or comments about the newsletter, please contact the Newsletter Editor, Arleen Garcia-Herbst, at [email protected]. Submissions for the newsletter are due to the Editor by 5:00 pm on the last Friday of each month for publication on the first Monday of the following month.