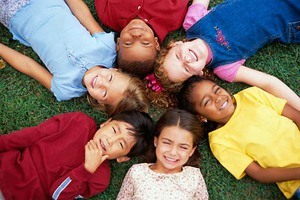 Shambhala Kids 2019 - 2020
The Shambhala Kids program uses meditation, yoga, art, music, drama and other sensory-rich activities to help children:
develop inner strength, confidence and compassion,

realize the basic goodness of all sentient beings,

come to know the six paramitas and the four dignities of Shambhala, and

relax in coming to know themselves.
The activities offered in the Shambhala Kids program are engaging while also allowing for spaciousness, seldom permitted in today's world. Children can be who they are in that moment: creative, active, joyful, frustrated, pensive, sad, or simply just quiet and observing.
Ages: 4-8 (Older children are welcome to serve in a leadership role. Please contact [email protected] to get connected)
Cost: $10 drop in per child.
Drop In – No registration Required. Parents are invited to register for Parenting as Path (Child participation in programming is included in Parent's registration fee) during this time, or attend the Center's Open House or Open Sitting Meditation Offering. Parents are also invited to stay with young kids that want to participate as a family during these ages (4-8) for Shambhala Kids.
___________________________________________________________________
Shambhala Kids facilitated by:
Amy Turino has been a public school educator for the past 16 years. She enjoys learning alongside children as they discover the world around them. Discovery through curiosity, passion and wonder are tools to understand our world and others. Through hands-on and creative experiences, Amy enjoys helping children find their voice and develop an understanding of who they are in the world and how they can use their gifts to help others. Amy loves the community and space provided within the Shambhala Meditation Center to do this work and looks forward to continuing to support and grow programming for children and families here at SMCD. Amy currently is the SMCD Children and Families Coordinator, you can reach her at [email protected]