White Awake Workshop
One of the most beautiful aspects of the dharma is that in ultimate truth we are not separate beings but, rather, interdependent. Nevertheless, for most of us, living in this ultimate truth 24/7 remains aspirational. Instead, we see, hear and behave in racist ways. Like fish in water, however, it is difficult to awaken to this truth. This workshop will introduce the concepts of white supremacy, white privilege and white fragility that we swim in every day and that often cause People of Color to feel unsafe even in our meditation halls.
We will be discussing race and white privilege, and how these can both inform and be informed by our dharma practice. The workshop leaders, Jackie Larner and Laurie Lavine, will function as facilitators, not as teachers.

We will read and discuss parts of the book White Fragility: Why It's So Hard For White People to Talk About Racism. The author, Robin DiAngelo, invites us to look at how we Americans have been immersed in a racist system that brings out our "white fragility" which she defines as:
... a state in which even a minimum amount of racial stress becomes intolerable, triggering a range of defensive moves. These moves include the outward display of emotions such as anger, fear, and guilt, and behaviors such as argumentation, silence, and leaving the stress-inducing situation. These behaviors, in turn, function to reinstate white racial equilibrium. Quote from The International Journal of Critical Pedagogy
In January-March, we will focus on:
Getting to know and trust one another to prepare the ground for open conversations.
Reading and discussing key passages in White Fragility by Robin DiAngelo.
Contemplating what we have heard and read.
In April-May, we will be hosting speakers and viewing media relevant to the topic.
---

Registration is appreciated, and it's also OK to drop in for the first night.
Suggested donation is $10 for each Wednesday.


---
Jackie Larner has two MAs (social work; women's history) & two decades of Shambhala & Buddhist training. As part of her Bodhisattva Vow, she became involved with Together Colorado's (TC) Transforming Justice Committee in 2015. With that group, she helped coordinate the failure, then passage, of the Colorado Amendment to Abolish Slavery from its Constitution. With TC members, she has attended two National Leadership Conferences and The People's Institute for Undoing Racism. Currently she attends a TC Monthly White Caucus, a Reparations Group, a Social Justice Book Club and received an appointment to the Denver DA's Advisory Group on Law Enforcement & Community (D.A.: Beth McCann).
Laurie Lavine has been a member of the Shambhala Meditation Center of Denver for 10 years. She has been a Vajrayana student since 2016. She is a relative beginner in the area of white awareness, white privilege and white caucusing. She started by reading Radical Dharma by Angel Kyodo Williams, Lama Rod Owens and Jasmine Syedullah, and attending a Radical Dharma retreat at the Shambhala Mountain Center in August, 2018 led by Angel Kyodo Williams and Lama Rod Owens. Last year she also participated in several sessions of Tracking, an awareness practice infused with Shambhala dharma and developed by Robert Horton, co-founder of UnTraining White Liberal Racism.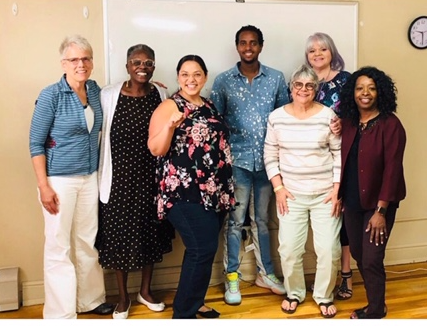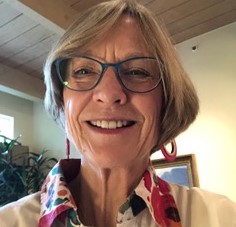 Jackie (front, 2nd from right) with Laurie
Together Colorado Transforming Justice team