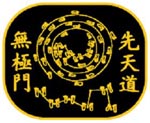 Taoist Qigong Level 4 -- Save these new dates!
with Acharya Dale Asrael
Taoist Qigong Level 4 weekend begins with a talk on the Taoist Path of the Dual Cultivation of Body and Mind - The Union of Xiantianwujimen, Yiquan, and Wudang Shan Lineages.
The text for the class is "Holding Yin, Embracing Yang", translated by Eva Wong.
Students will learn:
The Tiger and Dragon postures from the Wudang Shan lineage of Five Internal Animals Training (tiger, dragon, leopard, snake, and crane forms). The Tiger form builds bone strength, and the Dragon form trains the union of spirit and body. In addition, by immersing themselves in the spirit of these animals, participants will eventually come to embody the patience of the crouching tiger stalking its prey and the playfulness of the dragon frolicking in the sky.

Part 2 of the Immortals' Guide to Self-massage and Breath regulation. This system combines self-massage and breath control to facilitate the conservation and circulation of internal energy.

Part 2 of Chen Xiyi's (Xiantianwujimen) Red Phoenix Calisthenics System. This system combines tendon-changing, calisthenics, self-massage, and breath regulation.

The last two postures of Yiquan Zhangzhuan (Standing Qigong).
Please note that students should not teach any form of Xiantianwujimen or Yiquan Qigong without permission from the Lineage.
Level 4 is open to anyone who has completed Qigong Level 3 with Eva Wong or one of her appointed instructors.
---
For those who can offer more than the program price, we have a "Patron Price." Your generosity in offering the patron price helps cover the costs for others who are not able to pay the regular price.

For people who are repeating the program, half-price tuition is available. In exceptional cases, it is possible to reduce the program price or divide the payment into installments. To arrange for a reduced or repeater price, please contact us in advance for special instructions on registering at:

[email protected]

.
Save the date - registration will open in June.