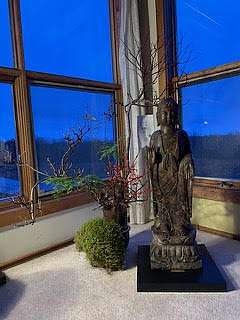 Kalapa Ikebana Society Workshop for New and Continuing Students
with Sensei Konchok A Shenpen
The practice of Ikebana, the Japanese contemplative art of flower arranging, teaches us that everyone has the instinct, gentleness and courage of artistic talent. Skill develops with curiosity, receptivity, guidance from a trained instructor ... and practice.
The theme of this February workshop is joining Heaven and Earth with branches, flowers and greenery; clearing away confusion of the past; and making space for freshness in the new lunar year. There will be an emphasis on Dharma art and Sogetsu.
Everyone is welcome, whether you're completely new to Ikebana, or would like to continue or reconnect with your training in this ephemeral art. Alexandra works with all students at the level of their experience.
Fresh plant materials are provided. Please bring a small bucket to transport flowers home nicely at end of workshop.
Equipment (clippers/container/kenzan) is available for use during the workshop. If you wish to purchase your own Ikebana supplies, they are available online at Ziji. If you already have clippers, please bring them along (continuing students should, at least, have their own clippers; do label with your name – or mark them in a unique fashion).
The workshop class size is limited, so please pre-register to reserve your space and materials.
Registration ends on Wednesday, February 5th. The materials fee of $25 includes plant materials and supplies. If you cancel your registration for any reason after Wednesday, the materials fee will not be refunded.
Check in starts at 9:00, and the workshop begins at 9:30.
---
Alexandra Shenpen
, PhD, Sensei, has devoted a great part of the last 25 years to the study of Ikebana/Kado through Kalapa Ikebana and the Sogetsu School of Japan. A senior adjunct professor, she has taught extensively for over 20 years at Naropa University, meditation centers and public venues locally and abroad. She is a meditation, maitri space awareness, dharma and Shambhala art teacher, mentor, psychotherapist, and coach in private practice. She is also is a master teacher (Riji) through Sogetsu Ryu in Tokyo, a distinction born of the love of learning. A deep passion for the way of the brush, the flower, cha (tea) and meditation inform her life and work with people near and far, bringing forth the unconditional beauty of being human.

---
There are a limited number of partial scholarships available for the program fee. To request a scholarship or make special payment arrangements, please contact us in advance at: Denver.Shambhala.[email protected].
For those who can offer the Patron Price, your generosity helps cover the costs for others who are not able to pay the full price.