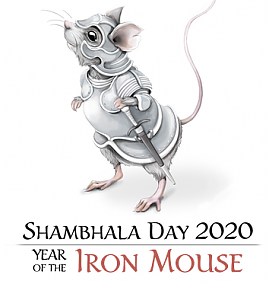 Shambhala Day 2020: Year of the Iron Mouse
Shambhala Day is our community celebration of the New Year (Losar) in the Tibetan tradition. In 2020, we usher in the Year of the Iron Mouse on Monday, February 24. The date is calculated astrologically according to the Tibetan lunar calendar.
All are welcome! We will begin our celebration by joining the live Shambhala Day broadcast from Karmê Chöling. It will include worldwide group practice, sharing Shambhala culture, and greetings from throughout our international community.
Shambhala Day on Monday, February 24
10:45 am Assemble in Main Shrine Room
11:00 am Shambhala Day International Broadcast
1:00 pm Gather for lunch at a nearby restaurant ("Dutch treat")
No registration required for this event.
Shambhala Day is when we offer financial support to Shambhala Global Services. Click here for a comprehensive overview of the many ways they support the community. They rely on our financial support to offer these services.
Donation slips will be available during our celebrations on Monday, February 24 and Sunday, March 1. You may leave your gift (cash, check or credit card #) in the donation box at the Center. You may also donate ahead of time by credit card at https://shambhala.org/giving/.
Because Losar is on a weekday this year and some cannot attend, we will continue our community celebration on the following weekend, February 29th and March 1st.
Ki Ki So Social on Saturday, February 29, 4:30-6:30 pm
Celebrating a successful 2019 End-of-the-Year Fundraising Campaign and welcoming the New Year with Basic Goodness Bites and Boissons (fancy-schmancy French for "beverages").
Click here for more information!
NOTE: All events at the Denver Center are free of alcohol.
Shambhala Day FINALE on Sunday, March 1, 8:00 am – 1:00 pm
Shambhala Sadhana
Video clips from Shambhala International broadcast
Fundraising for Shambhala Global Services
Appreciation Ceremony for Retiring Leaders: Lisa Sewald and Nan Clydesdale
CommuniTea
Click here for more information!