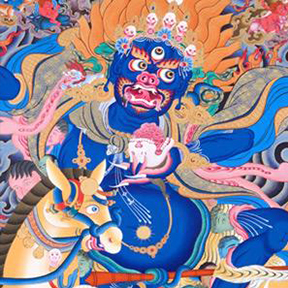 Mamo Chants: Dön Season
Dön Season
February 13 - 22
Monday-Friday 7pm-8:30pm / Saturday-Sunday 5:30pm-7pm
Update: Session on Wednesday, February 19 is cancelled.
This year Shambhala Day is Monday, February 24th, marking the beginning of a new annual cycle and the Year of the Iron Mouse. Mamo Chants will happen every evening between February 13th and February 22nd.
To dispel the karmic accumulation of personal, social, and environmental chaos at the year's end, all students are encouraged to practice as much as possible during Dön season, the ten-day period leading up to Shambhala Day. In particular, we are encouraged to recite the Mamo Chant together, beginning eleven days before Shambhala Day. This practice helps us to reflect on past actions and set intentions for a new year. By reciting the chant, we tune into the protector principle of awareness and reconnect with sacred outlook.
The day before Shambhala Day—Sunday, February 23rd—is considered a neutral day and is a traditional time to clean and refresh one's home and shrines in preparation for the coming year.
This practice is open to all. A suggested donation of $5-$10 is appreciated.
Sacred World/Vajrayana Seminary Graduates: Please sign up here to umdze, drum or present a talk.