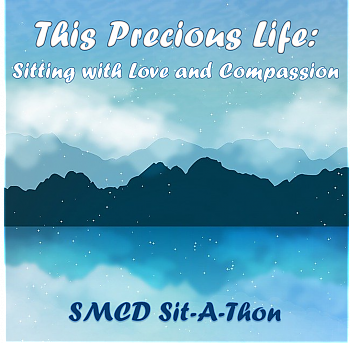 NEW SIT-A-THON DATES! This Precious Life: Sitting with Love and Compassion
This Precious Life: Sitting with Love and Compassion
Our 3rd annual sit-a-thon will take place online in partnership with the Boulder Shambhala Center. For 24 hours there will be sitting and walking meditation, mindful movement, and a stellar lineup of senior Shambhala teachers to offer dharma talks.
There are many ways to participate!
♦ Just donate to this fundraiser ♦ Donate by supporting a specific team ♦
♦ Sit and donate for yourself ♦ Sit and have sponsors ♦
♦ Sit and donate to a specific team ♦ Donate by sponsoring an individual ♦
Current Teams and the Captains
All are welcome to join the friendly competition! If you would like to join or form a team, reach out to [email protected]
The Water Tigers - Nan Clydesdale
PB & G (Profound Brilliant Glory) - Gary Frantz
You Should Have Seen Us When We Started - Dave Garton
Don't Just Do Something, Sit There! - Laurie Lavine
Dazzling Dragon Dancers - Juliette Jack Banerjee
The sit-a-thon is a great way to support SMCD and to experience the comradery of the Shambhala community on the Front Range. We aim to reduce our Center's monthly Covid deficit. While participants from both Centers will sit together on Zoom, 100 percent of any donation you make through SMCD will stay with the Denver center.
We are grateful for your continuing contributions through practice, volunteer service and financial support of the Denver Center. It enables us to share the precious gifts of meditation and our community with everyone.
Stay tuned for more details in our weekly e-newsletter and on this website. To sign up for the weekly e-newsletter, please go to SMCD's website homepage, and sign up on the right-hand side about halfway down. Note you will need to confirm your subscription once you sign up.