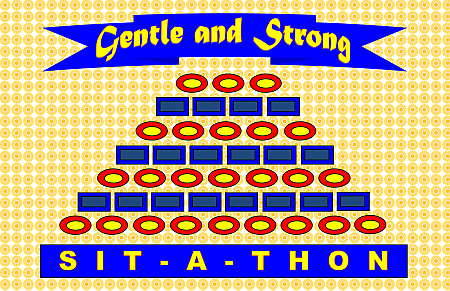 Gentle and Strong: A Fresh Start to the New Year (Online)
Gentle and Strong: A Fresh Start to the New Year is the theme of this year's Sit-A-Thon for the Shambhala Meditation Center of Denver (SMCD).
This fundraising event will take place online and in your home from 12 Noon Saturday, January 2nd, 2021 until 12 Noon Sunday, January 3rd, 2021 and will naturally be full of sitting meditation, walking meditation, as well as periodic dharma talks.
We aim to reduce our Center's monthly Covid deficit with this light-hearted and spacious 24-hour fundraising event (via Zoom). This year SMCD is coordinating jointly with the Boulder Shambhala Center and Dorje Khyung Dzong. While participants from all Centers will sit together on Zoom, 100 percent of any donation you make through SMCD will stay with SMCD.
Participate in this Fresh Start to the New Year by registering with one of the following ways:
Just donate to this fundraiser
Donate by supporting a specific Denver team (*options below)
Sit and donate for yourself
Sit and have Sponsors
Sit and join a specific Denver team (*options below)
Donate by Sponsoring an Individual (enter their name when registering)

*The Denver teams (team lead in parentheses):
Shantideva's Sit Like Log Ensemble (Dave Garton)
Bamboo in the Breeze (Joshua Andert)
The Warriors (Nan Clydesdale)
Perpetually Present in Space (Trevor Williams)
The Lacquer Cups (Gary Frantz)
We welcome anyone who wishes to join one of these teams. If you have questions, please reach out to [email protected] and we will contact you.
This is a great way to support SMCD and to experience the comradery of the Shambhala community on the Front Range.