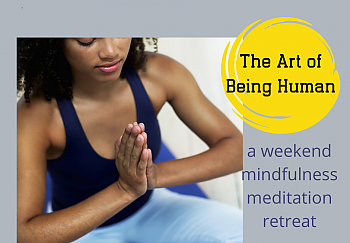 Shambhala Training Level I: The Art of Being Human (Online) REVISED DATES!
with Dhi Good & John Cobb
This program will be rescheduled.
This mindfulness meditation retreat presents the view that human beings are fundamentally awake and good. The Art of Being Human: the Heart of Warriorship Level I is the first of five levels of a complete cycle of ancient meditation practices and wisdom teachings rooted in the Shambhala tradition — created for the challenges of today's modern, everyday existence.
This retreat is designed for those looking to:
• learn mindfulness meditation
• explore the path of Warriorship
• deepen an existing mindfulness-awareness meditation practice
The Art of Being Human includes:
• Guided meditation practice
• Mindfulness meditation talks by senior teachers
• Group discussions
• Optional one-on-one meditation instruction
• Mindfulness movement exercises
Level I is open to all - there is no prerequisite.
The talk on Friday night is free and open to the public. Register below to receive the Zoom meeting link, and write "Friday night only" in your registration comments.
You may learn more about the entire Shambhala Training path here.
Please contact us at [email protected] with any questions.
---
About the Teachers
Dhi Good studied Zen for 10 years before joining Shambhala in 2005. She teaches meditation as a senior teacher at Shambhala Meditation Center of Denver and mindfulness for workplaces via dhigood.com. She works as a media consultant and instructional designer for nonprofit organizations. She earned an MS in Future Studies at University of Houston.
John W. Cobb has studied and practiced the Shambhala teachings since 1978 when he took a Level One in Boston, and he has taught the curriculum since 1988. He attended Harvard College and Columbia Law School, and has practiced law in both the public and private sectors. He served as Naropa University President for ten years, where he is currently an Adjunct Professor and teaches "Law, Human Rights and Social Change" in the Peace Studies Department. John is the author of two books of poetry, the most recent being "Footnotes to the Inexplicable: A Memoir in Verse" (Slickrock Press 2007). He is an avid birdwatcher and serves on the Advisory Council of the Massachusetts Audubon Society. His spouse, Bayard, is a therapist and teacher. They live in Denver, Colorado.
---
Our Generosity Policy: We have a generosity policy to make our offerings available to all who wish to participate. If the program price is an obstacle for you, please consider what works for you, and offer as much of the program fee as you can.
To discuss payment options, please contact us in advance of this Program at [email protected].

For those who can offer more than the program price, we have a "Patron Price." Your generosity in offering the patron price helps cover the costs for others who are not able to pay the full price.