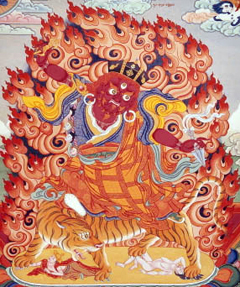 Community New Moon Practice: Sadhana of Mahamudra (Online)
The Vidyadhara, Chögyam Trungpa Rinpoche received the Sadhana of Mahamudra in a time of great uncertainty after he had fled Tibet, watching the dissolution and destruction of his rich Tibetan culture. Under these adverse circumstances, the Sadhana of Mahamudra is the glistening jewel of genuine wakefulness amongst the blazing mountains of materialism.
The practice lasts an hour and involves both chanting and silent meditation. The text will be shared online. No prerequisites, everyone is welcome.
Join the Zoom practice session here:
https://us02web.zoom.us/j/88329960744?pwd=WkU0eW1pRUxqYkZGelNGSU04aTd2dz09
Meeting ID: 883 2996 0744
Passcode: 675088
---
This program is free of charge and registration is not required to attend. A donation of any amount is greatly appreciated (in which case, please REGISTER to access payment options.)

More info about the Sadhana of Mahamudra: The history of the Sadhana is quite unique. While in England, Chogyam Trungpa had been tutoring the crown prince (now the king) of Bhutan, Jigme Singye Wangchuk, while the prince was studying at Ascot. At the invitation of the queen of Bhutan, Trungpa Rinpoche journeyed to Bhutan in 1968 and went on retreat at Taksang (pictured above) where he received the Sadhana of Mahamudra. Ever since Trungpa Rinpoche's journey to America in the early 70's, the Sadhana of Mahamudra has been encouraged to be practiced at Shambhala Centers with the community during the full moon.