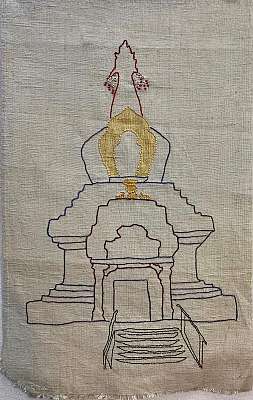 Dharma Art: Connecting to Creativity (Online)
with Kathy Mitchell-Garton & Dhi Good
Liberation by Kathy Mitchell-Garton
The main point of dharma art is discovering elegance. And that is a question of state of mind, according to the Buddhist tradition. … You have to start by paying attention to reality. You have to learn how to eat properly, to cook properly, to clean your house or your room, to work with your clothes. You need to work with your basic reality.
- Chögyam Trungpa, True Perception: The Path of Dharma Art
What is the creative state of mind? How do we cultivate it? Our Shambhala heritage has a rich tradition of contemplative dharma arts that include miksang (photography), ikebana (flower arranging), poetry, calligraphy and much more. In our modern lifestyle we can easily become separated, even alienated, from the richness of our lives. Being creative means connecting directly with our world and the meditative mind. Join Kathy Mitchell-Garton and Dhi Good for this 5-week exploration of creativity in the context of dharma art.
Materials
You may channel your creative practice however you see fit. We will draw inspiration and offer examples of various artistic disciplines. This class is more about the creative process than learning a particular art form. If you choose to explore photography, writing or ikebana, you'll need the materials to support the practice. In any case, we recommend keeping a journal for jotting down observations, inspiration and ideas.
Recommended Reading
Be, Awake, Create: Mindful Practices to Spark Creativity by Rebekah Younger
Spontaneous Creativity: Meditations for Manifesting Your Positive Qualities by Tenzin Wangyal Rinpoche
Registration and Generosity Policy
Registration at $50 helps support the Denver Center during these challenging times while our physical location is closed. Our generosity policy includes paying as you are able for the full series or to drop in.
Please register by 12 noon, Tuesday, June 1st to receive the Zoom meeting link in time for the first evening. Watch for an email with the link 24 hours before the program starts.