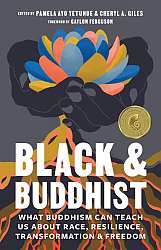 Black & Buddhist Study Group (Online)
We are delighted to announce that Pamela Ayo Yetunde
will join us live on Tuesday, August 3rd.
What can we learn from our Black and Buddhist fellow practitioners about our sangha?
During this 6-week study group we will watch and discuss videos from the Black and Buddhist Summit held on February 18-25, 2021. We will also be reading essays from Black & Buddhist: What Buddhism Can Teach Us about Race, Resilience, Transformation & Freedom, edited by Pamela Ayo Yetunde and Cheryl A. Giles.
In these interviews, panel discussions and essays, Black Buddhist teachers, writers, psychologists and pastors explore the intersection of Blackness, Buddhism, awakening and culture. Issues of freedom, safety and justice are discussed. We will listen to Black sangha members talk about what it has been like to be involved in mostly white sanghas. How has this affected Black practitioners' sense of belonging and identity? In what ways do white people also suffer from living in a deeply racist society? How can perpetrators and victims become free from reactivity and racial conditioning? How can Buddhist practices help us face and heal racial trauma?
We will discuss what makes a sangha inviting or uninviting to Black sangha members and ask ourselves what we can do to make our community more inviting.
The study group facilitators are Laurie Lavine and Gary Frantz. They have both completed a series of training focused on diversity, inclusion and examining white privilege. In addition to being Shambhala Path Meditation Instructors, they partner as Co-Directors of the Denver Center.
This study group is free of charge. A suggested donation is $10 per evening. You may attend all or part of the sessions.
Please REGISTER to receive the Zoom meeting link and other messages during the program.
Denver is MDT (UTC-6) – you may join from any timezone.