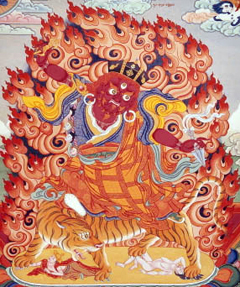 Sadhana of Mahamudra - Community New Moon Practice (Online)
The Boulder Shambhala Center offers the Sadhana of Mahamudra monthly on the full moon. The practice lasts an hour and involves meditation, visualization and chanting. The sadhana text will be shared on Zoom.
The practice is open to all. Suggested donation is $10.
CLICK HERE TO REGISTER
This link takes you the Boulder Shambhala Center website.
---
The Sadhana of Mahamudra is a practice text composed by the Vidyadhara Chögyam Trungpa Rinpoche, the founder of the Shambhala Buddhist community beyond Tibet. He wrote the Sadhana in a sacred cave in Bhutan in 1968 at an important turning point in his presentation of the Buddhist teachings in the West.
Chanting the sadhana, or liturgy, offers a means for renewing our spiritual strength and overcoming obstacles in our practice, our lives and the world that arise from physical, psychological and spiritual materialism and aggression. By practicing this we can rouse the power of our own wakefulness.
The sadhana is based on two main principles—the principle of space associated with the Nyingma school of Tibetan Buddhism and the principle of energy associated with the Kagyü school. The text is full of symbolism that may seem strange. Until you understand it through practice and study, you may simply chant the words and relax into the atmosphere that doing so creates.
"All thoughts vanish into emptiness, like the imprint of a bird in the sky." – Chögyam Trungpa, The Sadhana of Mahamudra