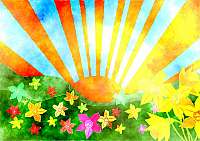 Summer is Here! July Picnic at Bible Park
Summer is here! Join us for a picnic on Sunday, July 11th at 12:00 noon.
We have reserved Picnic Area 1 at Bible Park, 6802 E. Yale Ave., Denver. A park map is here.
Bring your lunch, a chair or a blanket. There will be a few tables.
If you have a musical instrument, bring it. Or if you'd like to make an offering of song, dance, art or poetry—please share it. There will be a mindful walk for all ages.
If weather does not cooperate, we will notify you on this listing and at the top of the home page on denver.shambhala.org.
Questions? Contact Sonia: 720-985-6629, Anne: 303-434-6111 or Fred: 303-817-8098. If you need a ride, contact Fred.