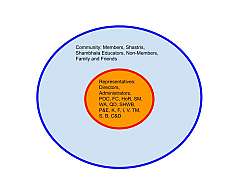 Community Meeting (Online)
Join in Leading SMCD into the future. Community Meetings will be held every 2nd Sunday at 12:00 noon for all those inspired to support SMCD make enlightened society possible.
After Sunday Morning Sitting, we will be using the same link -- so if you join sitting you can simply get up and grab yourself some lunch from 11:30 - 12:00, and we will start the community meeting promptly at noon. The Zoom meeting link is also here.
Feel free to eat your lunch in sangha on the zoom call from 11:30 - 12:00 as well.
---

As part of the transition from one Center Director to an Executive Committee of two Co-Directors and two Administrators, we are going to consolidate the meetings of the Operations Team and Leadership Council. We will host a single monthly Community Meeting on the 2nd Sunday of every month at 12pm. We will be exploring and defining the future leadership structure for Denver. The Community Meeting is the place to speak, listen, learn and shape the life of our community.
Minutes from previous Community Meetings can be read here and will be discussed at the start of meetings.