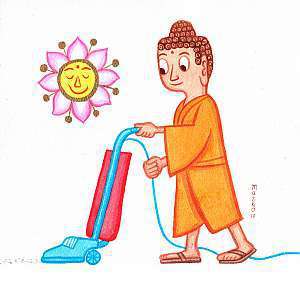 Neutral Day 2020 - Cleaning the Center
This is a traditional time of year to clean and refresh one's home and shrines in preparation for the start of the new year on Shambhala Day, February 24.
Please help us clean our practice and community spaces on the weekend before Shambhala Day. Come for all or part of a day.
Saturday, February 22, 9:00 am - 12 noon
Coffee, tea and bagels will be served.

Sunday, February 23, 12:30 pm - 6:00 pm
After Sunday morning sitting, a light lunch will be served between 11:30 am - 12:15 pm (soup, salad, bread) and afternoon tea with light snacks at 3:30 pm.
If you want to help during other times, please contact us to discuss your plans and arrange building access at [email protected].
Finishing One Year, Starting Anew, a short article by Walker Blaine, describes practices for the two weeks leading up to Shambhala Day, reflecting on the passage of time, and laying a good foundation for the coming year.