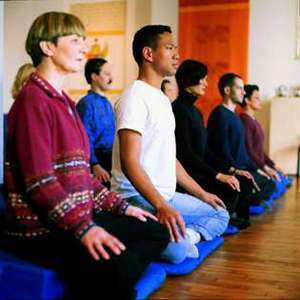 Sunday Morning Group Meditation Practice (Online)
The Shambhala Meditation Center of Denver welcomes all those wishing to practice sitting meditation in the Shambhala Buddhist tradition.
Join Zoom Meeting Room here
Sunday Morning Group Meditation
9:30 - 11:00 AM

Dharma Talk with Fred Jaben
"Something about Awareness"
11:00 - 11:30 AM
CommuniTea
Bring your lunch and eat with sangha
11:30 AM - 12:00 Noon

Community Meeting
Monthly leadership gathering open to all (more info is here)
12:00 - 1:00 PM
Our group meditation practice includes sitting meditation alternating with walking meditation. There is usually a contemplative reading and a compassion practice (such as Tonglen) during the morning. You are invited to attend all or part of the session.
These are free events. If you are able, please consider making a donation to keep such programs and our center going.
---
Meditation Instruction
If you would like to meet with a Meditation Instructor (MI) by phone or computer, please send an email with "MI Request" as the subject.