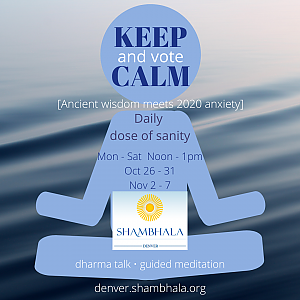 Keep Calm and Vote (Online)
As Election Day approaches, we are all aware that people we know, people beyond our kin, and indeed we ourselves are experiencing situational anxiety about the possible aftermath of the election. Wildfires in our state and all along the Pacific coastline, as well as the coronavirus epidemic, are also cause for tremendous worry and stress.
Join us for a daily dose of sanity, with a short wisdom talk and guided meditation. Please mark your calendar and
sign up here
for the Zoom link (at least 1 hour in advance). You only need to register once to access any of the 12 sessions.
Advance registration is required. Please note: Each session starts promptly at 12 noon MDT (admission ends at 12:10 pm). Arrive 5-10 minutes early to test your audio/video.
Mon Oct 26 Finding Balance Between Hope and Fear: The Practice of
Compassionate Abiding with Dale Asrael
Tue Oct 27 It's Not Too Late to Help Others Vote with Jon Barbieri
Posture Instruction with Juliet Bromfield
Wed Oct 28 Oh, Oh, the Other is Me. Now What Do I Do? with Fred Jaben
Thu Oct 29 Taking Care of Your Mental Health in Tumultuous Times
with Gary Frantz
Fri Oct 30 Staying Calm in the Face of Chaos with Dhi Good
Sat Oct 31 Living in the Challenge with Holly Gayley and Dave Garton
Mon Nov 2 Finding Tranquility in Victory or Defeat with John Cobb
Tue Nov 3 Gentle and Strong: Warriorship on Election Day with Judith Simmer-Brown
Wed Nov 4 Warriorship in a Raw and Chaotic World with Jon Barbieri
Thu Nov 5 Accommodating All Possibilities with David Cushman
Fri Nov 6 Feeling How You Feel with Dhi Good
Sat Nov 7 Active Patience with Drew Bromfield