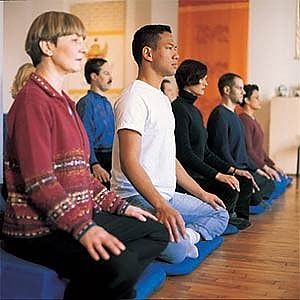 Sunday Morning Group Meditation Practice (Online & In Person)
The Shambhala Meditation Center of Denver welcomes
all those wishing to practice sitting meditation
in the Shambhala Buddhist tradition.
We are happy to be offering ONLINE and IN PERSON group meditation practice on Sunday mornings.
Our group practice includes sitting meditation alternating with walking meditation. We begin and end with chants. You are welcome to attend all or part of the morning.


---
Zoom Meeting is HERE
for all of today's activities

Meeting ID: 808 782 503 • Passcode: 955323
9:00 - 10:00 AM
Group Meditation Practice
10:15 - 11:15 AM
Shambhala Sadhana
Open to all - Learn about this practice
11:15 - 11:30 AM
CommuniTea
Virtual tea with sangha
---
GROUP MEDITATION IN PERSON
REGISTRATION is required to attend Sunday morning group meditation in person. For everyone's safety our current capacity is limited to 15 people. Only fully vaccinated individuals may visit the Center, and masks are required for all. Registration closes each Friday evening at 5:00 pm.
We are monitoring the recommendations from the state and counties and will adjust SMCD protocols accordingly. Updates will be posted in the weekly e-newsletter and on the website.
---
If you would like to arrange free meditation instruction, please email us at [email protected].
---
Sunday mornings are free and open to everyone. Donations are appreciated to help us maintain the Denver Center while our building capacity is limited during COVID. You may donate at any time here. Thank you for your generosity!